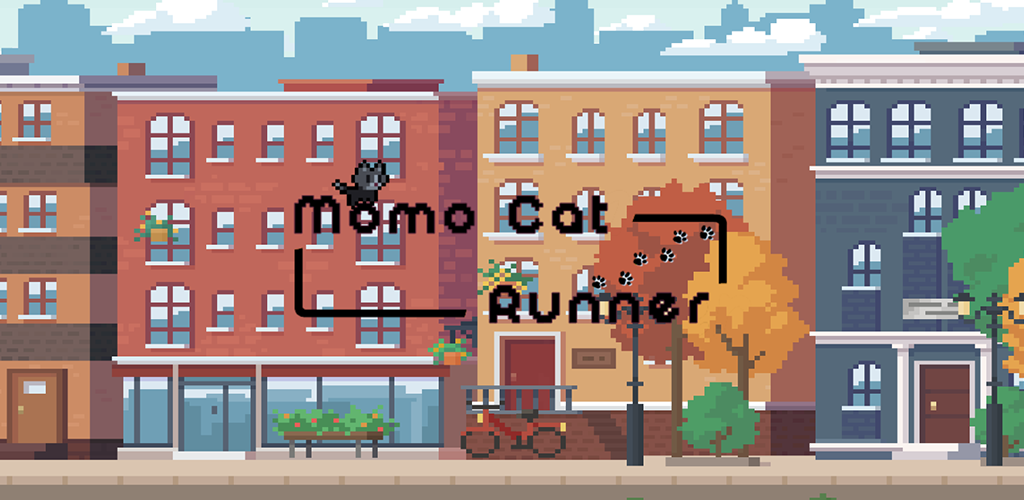 Momo Cat Runner is a small #androidgame developed during #devcom.
Momo Cat wants YOU to explore the secrets of the city in an exciting and cute adventure! Play now!
Momo Cat Runner is ready to explore the city! Follow it to encounter numerous obstacles, but also many surprises.
Explore cities.
Have fun!
Explore the City with Momo Cat Runner: An Exciting and Cute Adventure!
If you're seeking a fun way to pass the time on your Android device, Momo Cat Runner might be exactly what you're looking for! This delightful game gem was developed during the #devcom event and is ready to take you on a unique adventure.
Momo Cat Runner: Ready to Explore the City!
Dive into a captivating world and uncover the hidden secrets of the city with Momo Cat Runner. This adorable cat is in search of a playmate, and who better than you to accompany it on this adventure?
An Engaging Gaming Experience
In Momo Cat Runner, you'll have the chance to explore various cities, each with its unique details and challenges to overcome. You'll be enthralled by the immersive atmosphere of the game, thanks to captivating graphics and a cheerful soundtrack.
Obstacles and Surprises Along the Way
As Momo Cat navigates the city streets, you'll encounter obstacles that require agility to overcome. But don't worry, you're never alone! Momo Cat will always be by your side, ready to provide the support you need.
But that's not all. Alongside obstacles, there will also be plenty of surprises along the way. You can find power-ups that make the adventure even more thrilling, making you feel at the top of your game.
A Game for Everyone
Momo Cat Runner is suitable for players of all ages. Intuitive controls make it easy to play even for beginners, while increasing challenges as you progress keep experts engaged.
An Endless Adventure
One of the best things about Momo Cat Runner is that the adventure never ends. You can keep exploring cities, aim to beat your personal records, and share your victories with friends.
Play Momo Cat Runner Today!
So, are you ready to join Momo Cat in this breathtaking adventure? Get ready to explore captivating cities, conquer obstacles, and uncover surprises along the way. Momo Cat is waiting for you, ready to become your ideal playmate.
Download Momo Cat Runner now and embark on this exciting journey!
Our Games
Color Run (Android) – https://play.google.com/store/apps/details?id=com.d4fgames.colorrun
Cats Revenge (Android) – https://play.google.com/store/apps/details?id=com.D4fGames.CatsRevenge
Deep Space (Android) – https://play.google.com/store/apps/details?id=com.D4FGames.DeepSpace
Er Trippa Bubble (Android) – https://play.google.com/store/apps/details?id=com.D4FGames.ErTrippaBubble&hl=fr_CA&gl=US
Color Run (Android) – https://play.google.com/store/apps/details?id=com.d4fgames.colorrun
Cats Revenge (Android) – https://play.google.com/store/apps/details?id=com.D4fGames.CatsRevenge
Deep Space (Android) – https://play.google.com/store/apps/details?id=com.D4FGames.DeepSpace
Er Trippa Bubble (Android) – https://play.google.com/store/apps/details?id=com.D4FGames.ErTrippaBubble&hl=fr_CA&gl=US
Momo Cat Runner (Android) – https://play.google.com/store/apps/details?id=com.Develop4fun.MomoCatRunner
Er Trippa (Android) – https://play.google.com/store/apps/details?id=com.develop4fun.ertrippa
Math Challenges (Android) – https://play.google.com/store/apps/details?id=com.develop4fun.mathchallenges
Sudoku Quest (Android) – https://play.google.com/store/apps/details?id=com.Develop4fun.SudokuQuest
The Hidden Island Project (PC, in development) – https://d4fgames.com/project/the-hidden-island-project
Oradour's Mystery Project – https://d4fgames.com/project/oradours-mystery-project
Meta Ball – https://d4fgames.com/project/meta-ball
▼ FOLLOW US ON ▼
» Facebook (italiano): https://www.facebook.com/develop4funwebdev
» Facebook (français): https://www.facebook.com/developforfun
» Instagram: https://www.instagram.com/develop4fun » Twitter: https://twitter.com/Develop4funW
VISIT OUR WEBSITE: https://d4fgames.com
VISIT OUR WEBSITE: https://www.develop4fun.com
SUBSCRIBE NOW TO OUR CHANNEL: https://www.youtube.com/channel/UCZ4dhshzpVbbRPVuL9TNH4Q